Profile

If you can dream...
...and not make dreams your master
Free Account
Created on 2017-01-05 19:34:18 (#2731522), last updated 2017-01-05 (37 weeks ago)
4,238 comments received, 0 comments posted
273 Journal Entries, 46 Tags, 0 Memories, 6 Icons

About

Mini Bio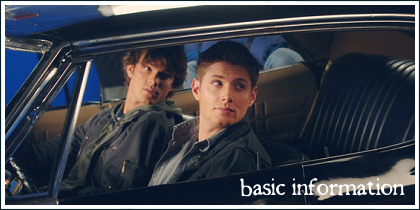 The home to the fanfiction of
dea_liberty
.
Her current interest lies in the Supernatural fandom, including SPN RPS, however this journal also houses her other works, which are mostly in the King Arthur (2004) and Harry Potter fandom, with the occasional fic from various anime/manga/games. They all still have a place in her heart even if Supernatural has completely eaten up her brain.
~
Warnings:
Work contained herewithin depict homosexual and sometimes incestuous relationships. The journal also contains
real person slash
. I accept no responsibility for any discomfort any of this may cause you.
Disclaimer:
The characters of any fanfiction contained herewithin are not mine - and the fiction depicting actors are not descriptions of real events; events, feelings and whatever else are fictional (which means
NOT TRUE
), and occur purely in the author's mind. I do not claim them and I make no profit from them.
~
Credits:
Images from "Supernatural" belonging to Eric Kripke, header made by
moveablehistory
. Coding for layout done by
halffling
, based on the Opal template by
ignited
, customised and edited slightly by
dea_liberty
. Mood theme by
fallonblackdays
.
~

Connect
anime
,
arthur/lancelot
, arthur/lancelot/guinevere,
bors
,
dagonet
,
dean winchester
,
dean/sam
,
dear boys
,
fanfiction
,
galahad
,
gawain
,
gawain/galahad
, gawain/galahad/tristan,
harry potter
,
harry/draco
,
hp slash
,
j2
,
jared/jensen
,
jsquared
,
juuni kokki
,
king arthur
, king arthur slash,
lancelot
,
poetry
,
pretear
,
reading
,
rps
,
rurouni kenshin
,
sam winchester
,
sirius/remus
,
slash
,
slash fanfiction
,
spn
,
suikoden
,
suikoden 2
,
supernatural
,
tristan
,
twelve kingdoms
,
writing
,
yaoi

People
[View Entries]

Communities
[View entries]

Feeds
[View Entries]

Subscriptions (0)

Linking
To link to this user, copy this code:
On Dreamwidth:
Elsewhere: